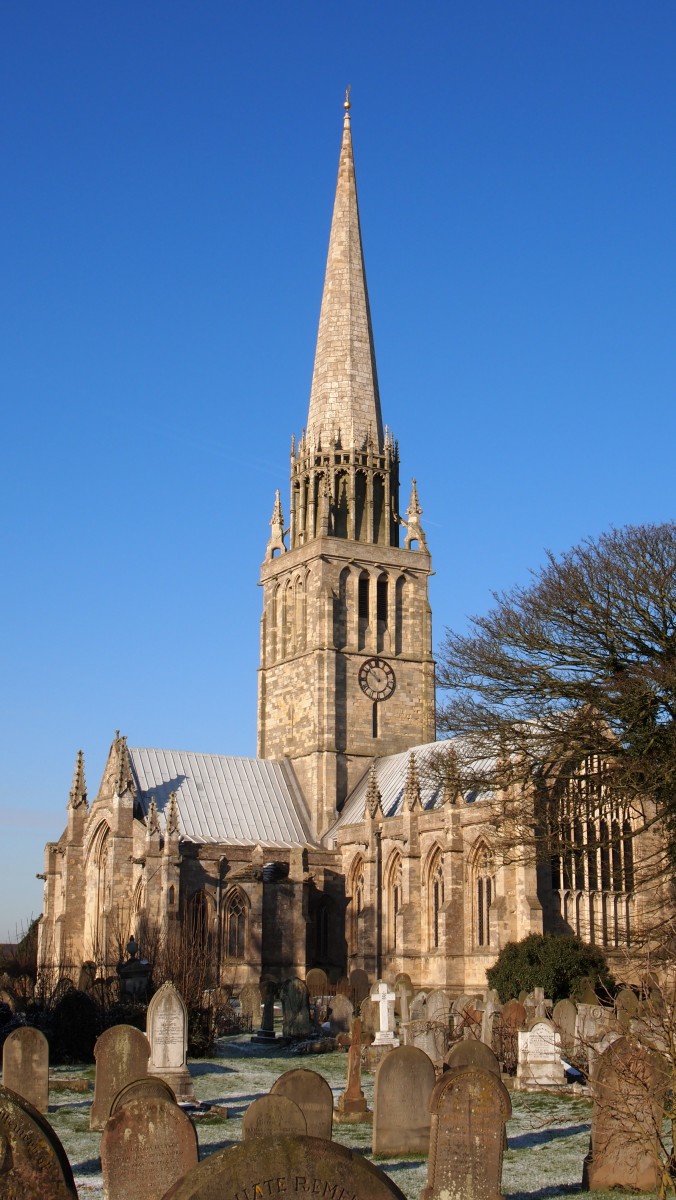 We're open.... with constraints.
St. Patrick's reopened for Sunday services of Morning Prayer at 10.30am on 19 July. All our services have to comply with government and CofE guidance, so they are rather different from normal. There cannot be any hymn singing, for example; and social distancing rules must be observed. If you are going to attend Sunday service, please go to the north transept door, as that will be the entrance. Please do not arrive at the church before 10.20am. Inside, there will be a notice reminding you of hygiene and other requirements, including wearing a face covering (guidance on how this is best done and what not to do is available), with a hand sanitiser station. If you have to queue, please maintain social distance. Recording your attendance is voluntary, but the guidance requests us to ask you to do so, by writing your name and telephone number on the slip provided and placing into the basket. You can then pick up your service books and wait for one of the stewards to conduct you to your seat. Members of the same household or "bubble" may sit together, but others must keep their distance, so please stay where the steward places you. The toilet will be closed. There will be no children's corner and parents are responsible for ensuring their children comply with guidance. The Officiant will give you other necessary information at the start of the service.
If you already receive Grapevine electronically or on paper copy, please bring the readings with you if you prefer to follow them rather than listen to the reader – but to comply with guidance, please take them away with you afterwards.
We can only offer restricted opening at present for visitors to comply with required government criteria - see below!.
Our new Rector, Revd. Alisdair Laird, was Instituted and Inducted into the benefice on 1 September, but numbers attending had to be restricted on an "invitation only" basis to comply with government limitations. A recording of the service (our thanks to Katie Ogilvie) is available via the link:-
https://www.youtube.com/watch?v=RoJNXP0N8II
Gospel for 27 September - Matthew Chapter 21, verses 23-32
The Authority of Jesus Questioned
And when he entered the temple, the chief priests and the elders of the people came up to him as he was teaching, and said, "By what authority are you doing these things, and who gave you this authority?" Jesus answered them, "I also will ask you a question; and if you tell me the answer, then I also will tell you by what authority I do these things. The baptism of John, whence was it? From heaven or from men?" And they argued with one another, "If we say, `From heaven,' he will say to us, 'Why then did you not believe him?' But if we say, `From men,' we are afraid of the multitude; for all hold that John was a prophet." So they answered Jesus, "We do not know." And he said to them, "Neither will I tell you by what authority I do these things.
The Parable of the Two Sons
"What do you think? A man had two sons; and he went to the first and said, `Son, go and work in the vineyard today.' And he answered, 'I will not'; but afterward he repented and went. And he went to the second and said the same; and he answered, 'I go, sir,' but did not go. Which of the two did the will of his father?" They said, "The first." Jesus said to them, "Truly, I say to you, the tax collectors and the harlots go into the kingdom of God before you. For John came to you in the way of righteousness, and you did not believe him, but the tax collectors and the harlots believed him; and even when you saw it, you did not afterward repent and believe him."
This passage is part of the warnings Jesus gave to the Temple priesthood and elders about their refusal to listen to John the Baptist's teaching and their rejection of His own teaching. They were so focused on the correctness of their own position that they were completely unreceptive to the messages God was sending them via John as Jesus' forerunner, and the arrival of the long awaited Messiah in the person of Jesus, because neither fitted their preconceptions and challenged their authority - and by implication, their positions of influence and the personal advantages which came with them.
We all have preconceptions - but we need to be careful they don't lead us to try to override what God wants, as He is always right even when we think He's wrong!
After Covid19...
The Church of England, with a number of other bodies is conducting a survey into the impacts of the pandemic on churches as centres of worship and hubs of support, care, community activities and wellbeing.
The survey is brief, and is designed for church members, users of church halls and leaders and members of community groups.
This is an opportunity to contribute to national planning, so please help in this project if you can – the link to the survey is:-
www.surveymonkey.co.uk/r/MZCDTF8
Covid19...
Our church buildings are now open - with conditions imposed. We still cannot share our personal love and fellowship in the accustomed and traditional way; and nor can we welcome you into St. Patrick's as visitors to wonder at the beauty and artistry of our lovely building. Whether you feel the government have over-reacted or are only taking sensible precautions is not a matter for debate here: what we do assure you of is that St. Patrick's people are still praying, still loving and still here - we just cannot show it as usual.
Our very best wishes to all who visit our website. May you and yours be safe from Covid19 (or if contracted quickly recover) or any other illness or anxiety affecting you bodily, mentally or spiritually. We pray that we will be able to resume our usual Christian activities before very much longer.
... and money.
Like other charities, St. Patrick's is badly affected by lockdown. We cannot hold events or receive visitors and are reliant upon donations from church members and the local community. I estimate this will mean we will lose around £10,000 (35%) of our usual income in 2020. We can survive this as we do have some reserves, but those reserves are earmarked to go part of the way to financing the £400,000 of repairs we need to carry out over the next couple of years.
May I ask all our congregation and supporters to set aside donations they would normally have made, but ONLY if this can be done without adverse impact on yourself and your family. If you can increase your support, this would be very helpful in current circumstances. Should you find it more convenient to donate direct to the church's Barclays Bank account, the sort code is 20-43-47, account name is PCC of Patrington, and account number 30707988. Please, though, provide a transaction description so I know who is making the donation.
Michael Price, PCC Treasurer.
Some interim good news...
From 23 September, the church will be open Wednesday afternoons from around 1pm to 5pm. The church will be supervised by church officers and visitors are reminded of social distancing, face covering and hand sanitation requirements. We ask you to record your name, telephone number and date of your visit on the slips provided, but this is entirely voluntary.
Access for ambulatory visitors from the car park on High Street is up the steps between the handrails and direct to the north porch. Wheelchair users' access is through the gap in the east wall of the car park, through the lychgate and again to the north porch. There is a ramp for wheelchairs just inside the porch to help negotiate the entry step.
Entry to the church from Church Lane, to the south of the church, is via the kissing gates and the paths leading to the north of the church. These routes are not accessible to wheelchair users. There are some areas of the churchyard cordoned off for safety reasons pending attention from the Patrington Parish Council, who are responsible for churchyard maintenance.
If you are interested in exploring our beautiful church but do not wish to participate in a church service, we respectfully suggest you avoid service times (shown in the calendar).
If you would like to organise a group visit, please contact the PCC Secretary in advance, so that clashes with other visits or activities are avoided. We advise that a group visit covering the whole of the church will take a minimum of two hours, three hours if a tower tour is included.
We do have a toilet, but unfortunately space and access constraints mean it is not suitable for people with disabilities. It is available for church services, all church events, organised parties and whenever the church is stewarded. It is NOT available for use by casual visitors other than by prior arrangement with one of the Church officers.
Safeguarding vulnerable people.
St. Patrick's Church takes very seriously our duty to safeguard vulnerable people. More information is available from the PCC's Safeguarding Officer (see the "Contact us" page) or from the Diocese of York at https://dioceseofyork.org.uk/safeguarding.
Our Conservation Management Plan.
We began preparing our Conservation Management Plan (essential for all Major Parish Churches) in March 2019 and began community consultations at the Annual Parochial Church Meeting on 30 April 2019. Results from a local questionnaire indicated responders would like to see more major events in church. An inital draft of the Plan was adopted formally by the Parochial Church Council in September 2019.
The PCC has agreed to progress the priorities defined by Purcell Architecture Ltd. and is discussing where we go from here with other national and regional stakeholders and partners - essential when looking at the future of a Grade 1 Listed Building nationally recognised for its quality and heritage value.
We'll provide more information to (and want views and help from!) our local community, supporters and friends as events unfold and our plans for the future of our lovely Church crystallise. This may seem to be taking a long time, but dealing with reordering and enhancing such an important heritage building (plus the major repairs which are necessary over the next few years) isn't straightforward. Inevitably much of what we want to progress is on hold because of the national situation.
If you would like to read the CMP, it is available by email from the Project Manager, Michael Price (michaelgprice@btinternet.com). As it runs to 104 pages and has many colour photographs and illustrations, we cannot provide paper copies.
Facebook.
We now have a Facebook page - St Patricks Church Patrington - authentic page - to keep everyone in touch. The title is a bit longwinded as there were already other pages about the church which aren't ours. If you like what you see, whether on Facebook or on this website, please tell your friends. Better still, come and visit our lovely church - visitors always welcome, but if you want to see it all, it will take a couple of hours.