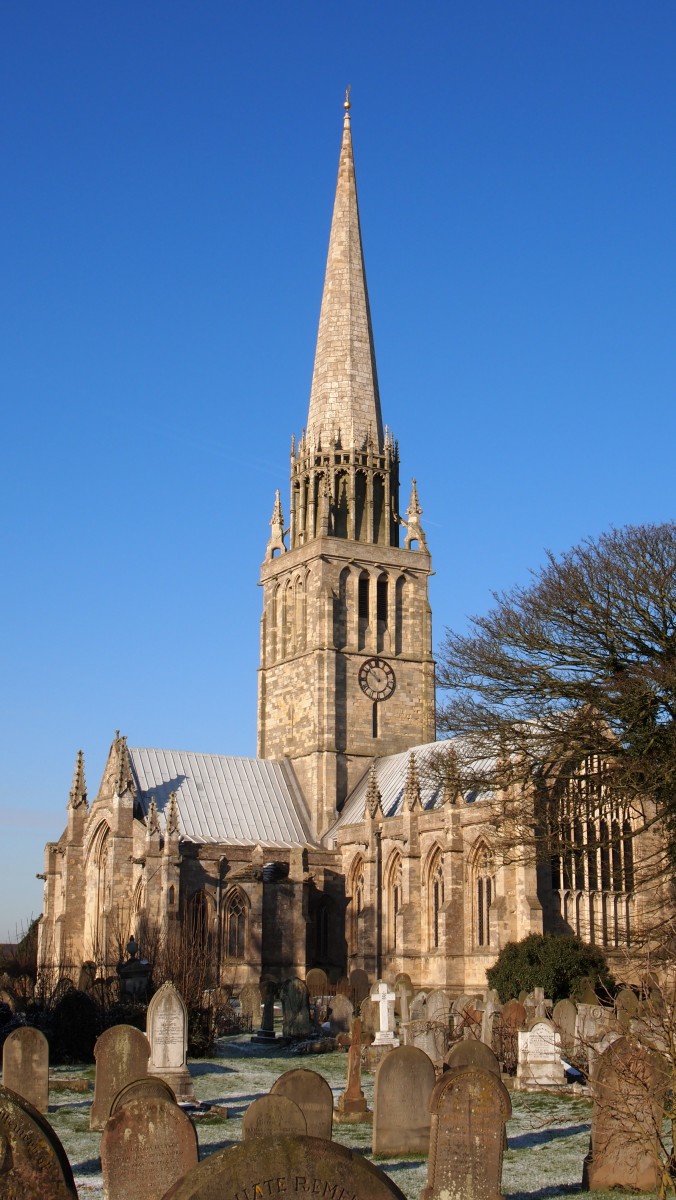 We're closed - but hopefully not for too much longer.
We're having the same rollercoaster ride as the rest of the nation over what we can and cannot do. Following the latest government lockdown and receiving advice from the Diocese of York, we consulted our congregation and the overwhelming view was that we should close for services until restrictions ease. Our lovely church building was already closed to allow major repairs to be done, which are now expected to take until the end of May. There will continue to be special arrangements for funerals in church but all other services are suspended apart from in exceptional circumstances. We are of course keeping Grapevine going: if you don't get a copy and would like one, please ask. We held our outdoor service in the churchyard at 11.00 on Easter Day, in (fairly) warm sunshine - and we sang our Eastertide hymns together, observing social distancing rules and other goverment restrictions. Subject to weather, we are arranging additional outdoor services while the church remains closed for repairs -please see the calendar page.
Third Sunday of Easter
Acts of the Apostles 3, 12-19
A lame man walks and Peter speaks to the crowd
So when Peter saw it, he responded to the people: "Men of Israel, why do you marvel at this? Or why look so intently at us, as though by our own power or godliness we had made this man walk? The God of Abraham, Isaac, and Jacob, the God of our fathers, glorified His Servant Jesus, whom you delivered up and denied in the presence of Pilate, when he was determined to let Him go. But you denied the Holy One and the Just, and asked for a murderer to be granted to you, and killed the Prince of life, whom God raised from the dead, of which we are witnesses. And His name, through faith in His name, has made this man strong, whom you see and know. Yes, the faith which comes through Him has given him this perfect soundness in the presence of you all.
"Yet now, brethren, I know that you did it in ignorance, as did also your rulers. But those things which God foretold by the mouth of all His prophets, that the Christ would suffer, He has thus fulfilled. Repent therefore and be converted, that your sins may be blotted out, so that times of refreshing may come from the presence of the Lord,
Jesus encouraged his disciples not to be afraid. In the resurrection God tells us and all who believe in him not to be afraid. We have no need to fear whatever happens to us or to our loved ones, for if God can overcome death and raise Jesus, he can carry us through our struggles, problems, doubts and darkness. This is not to say that life and problems will be easy or can be wafted away, Jesus had to go through the crucifixion before he was resurrected, but it does mean we are not left to face them alone and it does mean that we can leave the burden of fear in the empty tomb. Thus, like the disciples, we can step out boldly to share the good news and to live his risen life with him.
Every blessing,
Rev. Janice
We are trying out other ways of worship whilst the church is closed and there will be a telephone service of Evening Prayer today at 7pm, with lines open from 6.55pm. To join in:-
Dial: 0333 0164 757
When requested enter: 12367787 #
And, when requested enter the PIN: 4002 #
Please join us.
And now St. Patrick's is more visible!
Following an arboriculturist's report and permission from both the Chancellor of the Diocese and East Riding of Yorkshire Council, the diseased and in some places dangerous trees (most of which were non-native sycamores) on the western edge of the churchyard have been felled, the ground cleared and the stumps dealt with. Fence posts and wires have been put in place to define the boundary and protect a newly planted hawthorn hedge and specimen native trees until they become established. This has opened the view of the church from the west and north-west and when the new planting has grown, will provide an attractive and easily manageable boundary.
Some good news (for a change!)
We are pleased to announce that we have been fortunate enough to be given a grant of £8,000 by Allchurches Trust towards the current major repair works, already grant aided by the Department of Culture, Media and Sport. Our grateful thanks to the Trust.
Covid19... and money.
Like other charities, St. Patrick's is badly affected by lockdown. We cannot hold events or receive visitors and are reliant upon donations from church members, the local community and any more distant supporters. This means we have lost around £23,000 (70%) of our usual income in 2020 and we are still losing as 2021 progresses, particularly as we cannot plan for future events in any detail. We can survive this, but it will not be easy. Most of our present reserves will be expended financing our share of the repair project costs, which could not proceed without the grant aid we have received. Even then, we will still have repair, refurbishment and enhancement costs exceeding £1m to meet over the next few years. We will of course keep applying for grants, but the day to day running costs of St. Patrick's are up to us and our community to find.
May I ask all our congregation and supporters to set aside donations they would normally have made, but ONLY if this can be done without adverse impact on yourself and your family. If you can increase your support, this would be very helpful in current circumstances. Should you find it more convenient to donate direct to the church's Barclays Bank account, the sort code is 20-43-47, account name is PCC of Patrington, and account number 30707988. Please, though, provide a transaction description so I know who is making the donation.
Michael Price, PCC Treasurer.
Safeguarding vulnerable people.
St. Patrick's Church takes very seriously our duty to safeguard vulnerable people. More information is available from the PCC's Safeguarding Officer (see the "Contact us" page) or from the Diocese of York at https://dioceseofyork.org.uk/safeguarding.
Facebook.
We now have a Facebook page - St Patricks Church Patrington - authentic page - to keep everyone in touch. The title is a bit longwinded as there were already other pages about the church which aren't ours. If you like what you see, whether on Facebook or on this website, please tell your friends. Better still, come and visit our lovely church - visitors always welcome, but if you want to see it all, it will take a couple of hours.